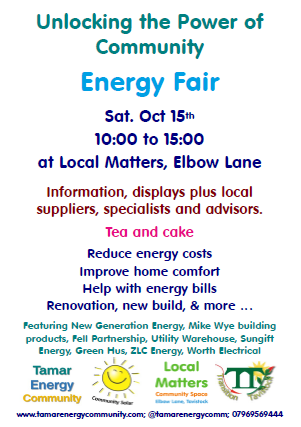 Unlocking the Power of Community is the theme for our annual Energy Fair on Saturday October 15th taking place in Local Matters community space in Elbow Lane, Tavistock, from 10:00 until 15:00.
There's lots of reasons to come along …
… We're offering free tea and cake
… Are you concerned about keeping your home warm, about your bills, saving energy?  Come and talk to our local volunteers about the small things you can do that can make a difference.
… Find out more about the Community Fundraiser we've started with the Utility Warehouse. They offer excellent service and competitive tariffs to suit some households.
… Living in an older home that's difficult to keep warm? Building a new home? Come and find out more about what others locally have done and how you can get started or be helped along the way.
… Come and talk to  Mike Wye –natural building products, The Fell Partnership –energy efficient building,  GreenHus – external wall insulation.
… Living in a Bedford Cottage? We're starting a project to look at how we can keep these homes warmer without spending lots of money. Come and find out more.
… Interested in generating your own power or in renewable heat? Things are changing fast. Come and talk to three of the leading local experts: New Generation Energy, Sungift Energy and ZLC Energy.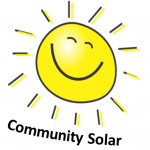 … See our Community Solar installations generating! We're proud of our achievement in getting solar panels owned by the community to support five sites across the area. Our host sites (including Mount Kelly and Abbey Garden Machinery) can reduce their energy costs and be renewable generators. Any surplus is used to support fuel poverty and energy advice locally. 
… Talk to Roots to Transition and the team from Tasty Tavy working to transform Tavistock … and pick up some free seeds
… Check up on our Totally Locally Tavistock display
.. And see what we're doing with Local Matters community space … supporting Transition Tavistock, Tamar Energy Community, Climate Matters and more … a space for you …
If you'd like to help us promote the event you can download a poster here
Want more information? Call or email us at hello@tamarenergycommunity.com or on 07969 569 444.