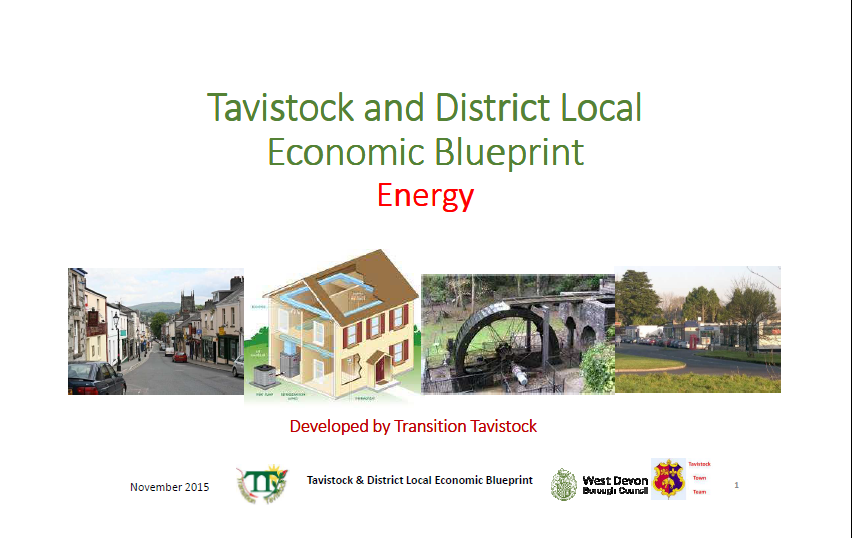 The Tavistock and District Local Economic Blueprint (LEB) was launched at the Tavistock Chamber Business Show on Friday, 6th November 2015.
Its aim was to provide a supported three year plan to help strengthen our local communities, stimulate jobs and enterprise and enable increasing proportions of our needs to be fulfilled through local supply chains.
The LEB covers local food, local energy generation and domestic retrofit.
The Blueprint looks at how far the £120m spent each year in and around Tavistock on food and energy benefits the local economy, and what opportunities there are for these sectors to deliver more for our future health, wellbeing, resilience and prosperity.
The Blueprint reports and other information can be found here on the Transition Tavistock website; or you can download the Energy report here.
We believe these reports and the information and recommended actions within them could provide valuable insight as we look to Build Back Better.
About the LEB area included
The report focuses on the Southern Link parishes around, and including, Tavistock, but our conclusions and recommendations have wider relevance across West Devon and beyond.
Population: 32,200 (PPSA estimates, West Devon 2012) Households: 13,481 (2011 Census Data)