We're excited to be one of seven community energy pilots running in the UK, as part of a ground breaking trial, to understand how the changes in the way that energy is generated and used in the future will impact you.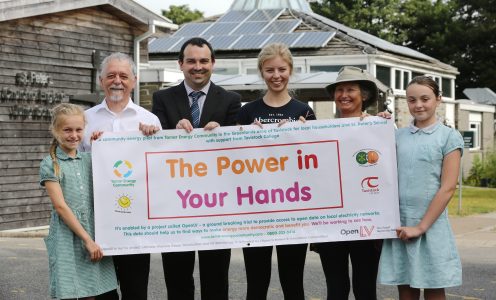 We believe there could be opportunities for you to have more influence on how you use, and what you pay for, energy in the future. That's why we've called our project 'The Power in Your Hands'.
As part of this trial we are accessing and analysing open data from the low voltage substation in Meavy Way in Greenlands. We're working with local residents and St. Peter's School to understand what this data means about current and future energy use and behaviour.
Access to open data on local electricity networks should make energy more democratic and benefit you. We'll be working to see how.
How you can get involved
Take part in our Householders Survey here's a link to it online. It will take between 5 and 10 minutes to complete.
Check out out the peaks and dips in energy demand and other data we're producing HERE, and let us know what you think. We're also developing an App you can use from your smart phone.
Sign up to receive email updates on progress and local events
We'd also like to hear from you if you are generating and/or storing your own energy or have an electric vehicle.
Get in touch … call 0800-233-5414, email hello@tamarenergycommunity.com or let us know your details via our Contact Form.
Newsletters
You can download The Power in Your Hands newsletters here:
          August 2019          Power in your hands Newsletter Aug 19 (download pdf)        View in web browser
          May 2019                The Power in Your Hands May 19 newsletter (download pdf)
OpenLV
The Power in Your Hands is part of a project called OpenLV which is making local electricity data openly available for the first time ever. The Greenlands area of Tavistock is one of seven neighbourhoods involved across the S.West, S.Wales and the Midlands.
Your substation is where electricity is turned from a high voltage dangerous current to the low voltage electricity you use at home. Thanks to a piece of kit called an LV-CAP™ we will be able to learn more about electricity use in the Greenlands neighbourhood and work together to change our energy use habits, maybe even saving on our bills as we go!
Knowing about our local electricity use means we can try to avoid overloading our substation and in the future, it might even be possible to have electricity tariffs which offer cheaper energy at off-peak times of day.
This video will explain more about OpenLV.
Energy use and Time of Day Tariffs
Going forward, energy companies will be looking at introducing tariffs with different rates at different times of the day.
Carbon Intensity of our energy
You can track the carbon intensity of our energy networks here:
https://carbontracer.westernpower.co.uk/ (Local region)
https://carbonintensity.org.uk (National and S. West England)