The consultation of the Interim Devon Carbon Plan is now live! The plan is a collaborative roadmap to creating a net-zero Devon where people and nature thrive and is Devon's response to the global climate emergency,
The time has now come for your chance to offer further thoughts and feedback. You are asked to take part in the Interim Devon Carbon Plan consultation, which lasts for 10 weeks until 15th Feb 2020.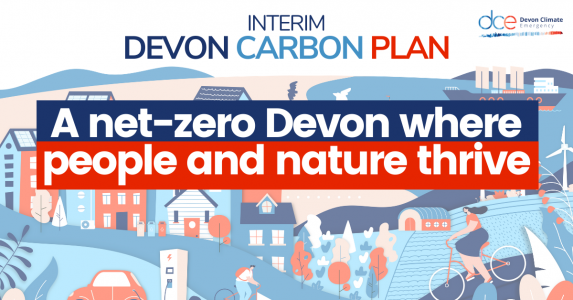 Devon Climate Emergency (DCE) partnership wants to hear your views on key actions which outline some of the transformational changes which are required to create a thriving net-zero Devon.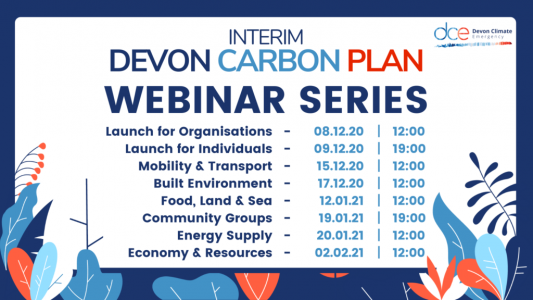 You can also get involved in a series of Webinars looking at different aspects of the plan.
You can download the Webinar poster here and register for Webinars here.
The Interim Devon Carbon Plan will be updated to a final plan after the Citizens' Assembly, now in 2021 due to Covid-19.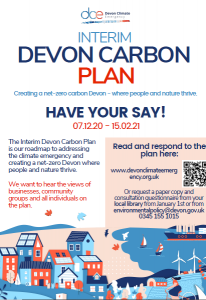 The actions cover a broad range of topics which will allow us to build back better. Addressing the climate and ecological emergency is an opportunity to create a fairer, healthier, more resilient and prosperous society.
DCE is requesting feedback from Devon's citizens to indicate to what extent they agree with the proposed actions.
Have your say at www.devonclimateemergency.org.uk/interimcarbonplan or request a paper copy and consultation questionnaire from your local library from January 1st.
You can download a copy of the 'Have Your Say' poster here.