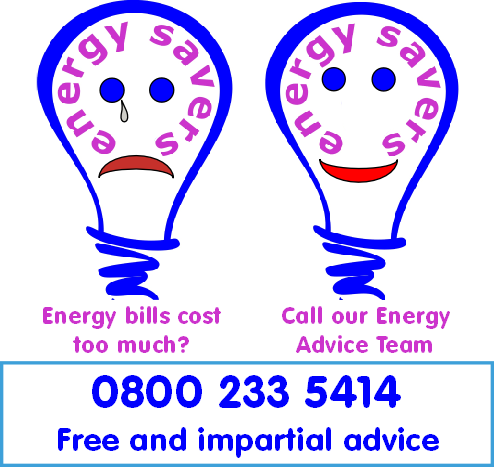 Energy saving practical measures
Here's a list of actions you can take now to understand and reduce your energy use. Follow the links below to get more information and remember, we're here to help so if you have any questions please get in touch.
Understand how much your energy is costing you, how your usage is changing week by week and month by month and why!
Understand your bill and make sure that you're being c

harged on the basis of actual

rather than estimated meter readings
Consider switching supplier for an offer better suited to your needs
Depending on your circumstances a Pay-As-You-Go smart meter may be an answer.
Make sure you understand how to use your heating controls such as thermostats and programmers and timers if you have them; and are using heating controls on night storage heaters correctly
Look at

low cost measures

such as keeping the heat in through draught busting.
Change your

lighting to LEDs.

Get any

unfilled cavities or lofts filled

 (where suitable) or your loft topped up.

Depending on your circumstances their may be help with this.

Consider external wall insulation if you have suitable solid walls. Cosy Devon may be able to help with the cost.
Get in touch if you have an old or faulty boiler and you are on benefits. There may be assistance in replacing it.
If you have an older property with solid walls have a look at our advice sheet and supporting information. Get in touch if you have questions.
If you'd like advice or support, or just want to talk through your options get in touch and ask to speak to our impartial energy advice team.
Call 0822-233-5414, email hello@tamarenergycommunity.com or call into Local Matters Mon-Sat 11:00 to 13:00.
Energy Savers from TEC
Energy Savers is a TEC initiative developed in 2013/14 with the S.W. Devon Community Energy Partnership, supported by the Energy Saving Trust and Dartmoor Sustainable Development Fund.