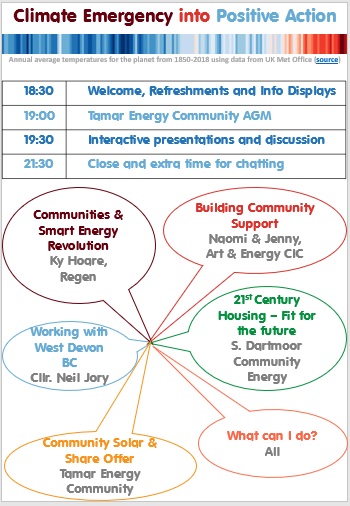 When: Fri Mar 6th, 18:30 for 19:00
Where: Lower Deck Cafe, United Reforned Church, Russell Street, Tavistock. PL19 8BD
We had a great evening with 50 attendees. Thanks everyone for joining us and very many thanks to Blue Skies Catering for the wonderful vegan Jambalaya which we all enjoyed.
TEC AGM: Ran from 19:00 to 19:30. Minutes will be available in April 20
The event: Thanks to our speakers for the informative presentations and for the lively and positive discussions. We will share a summary and the presentations soon including:
Art and Energy – building community support – with Jenny Ayrton (Art & Energy CIC)
What's West Devon Borough Council doing? How can we help? – Cllr. Neil Jory (Leader, WDBC)
Let's hear from Tavistock Town Council – Lesley Crawford (TTC)
Communities and the smart energy revolution- Ky Hoare, Regen
The future of 21st century housing – fit for the future – Kate Royston (Tamar Energy Community)
Our Community Share Offer launching soon – TEC
What can I do? – All
The participation: We had a number of participatory activities including a "What can I do" board. We'll be publishing this very soon.
Read more about the event and the topics here