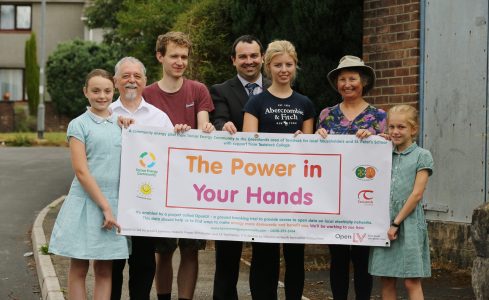 Concerned about the energy efficiency of your home or work place?                    Finding it difficult to manage your bills? Like to improve your home comfort?Concerned about the climate emergency and biodiversity erosion?                  Like to be more energy independent through generating, and perhaps storing your own?
Whatever your concerns and interests you'll find something to take away from Tamar Energy Fest on Saturday 23rd Nov. This year we'll be in Butchers Hall, Tavistock and we'll be open from 10:00 until 15:00. Free entry and delicious tea and cake in our pop-up energy cafe where we'll also be holding informal talks (see below).
Do come and join us …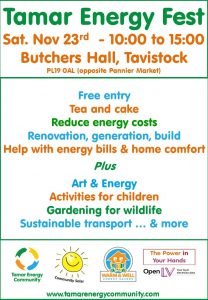 We'll be demonstrating how you can make small and/or big changes to your bills and energy consumption with our expert exhibitors, information stalls and activities for children and interested adults.
Join in with our community art project for the day. You can add your idea for a climate net zero Tavistock in our 2 by 1 metre banner organised by Art & Energy.
We'll be introducing our interactive display explaining how our new energy system is evolving and can benefit you, and your home or workplace, and what we're doing to localise this.
Come along and talk to us about your heating, lighting, insulation, easy measures and opportunities for generation. If you're concerned about keeping your home warm enough and bills manageable, we can offer advice and support.
We'll have experts including ZLC Energy, Sungift Energy and New Generation Energy to talk about renewable generation (heat and power) and storage, Nathan McCarter Joinery about energy efficient doors and windows, and electric vehicles and other ideas for more sustainable travel. See below for exhibitors list.
Our Local Authorities will be on hand to share their progress in addressing the Climate Emergency and ask for your involvement including an update on the Devon Climate Declaration.
Transition Tavistock, Tavistock Community Gardening, Tavistock Scrapstore and others will also be on hand with activities and options for more sustainable living.
If you'd like to exhibit or you'd like to help us out and volunteer on the day please get in touch. Email hello@tamarenergycommunity.com or call 07969 444 569.
Activities for children … and adults include:
Interactive smart meter display

Tavistock's Energy Future – participative art from Art & Energy

Make your own draught excluder

What is watt?

How energetic are you?
Informal Talks in the pop-up Energy Cafe: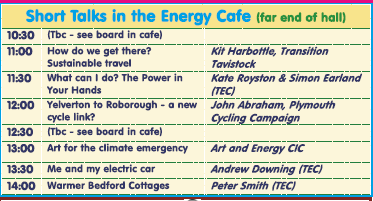 Exhibitors include:
Art & Energy