Tamar Energy Fest – 28th Oct 17 – A great success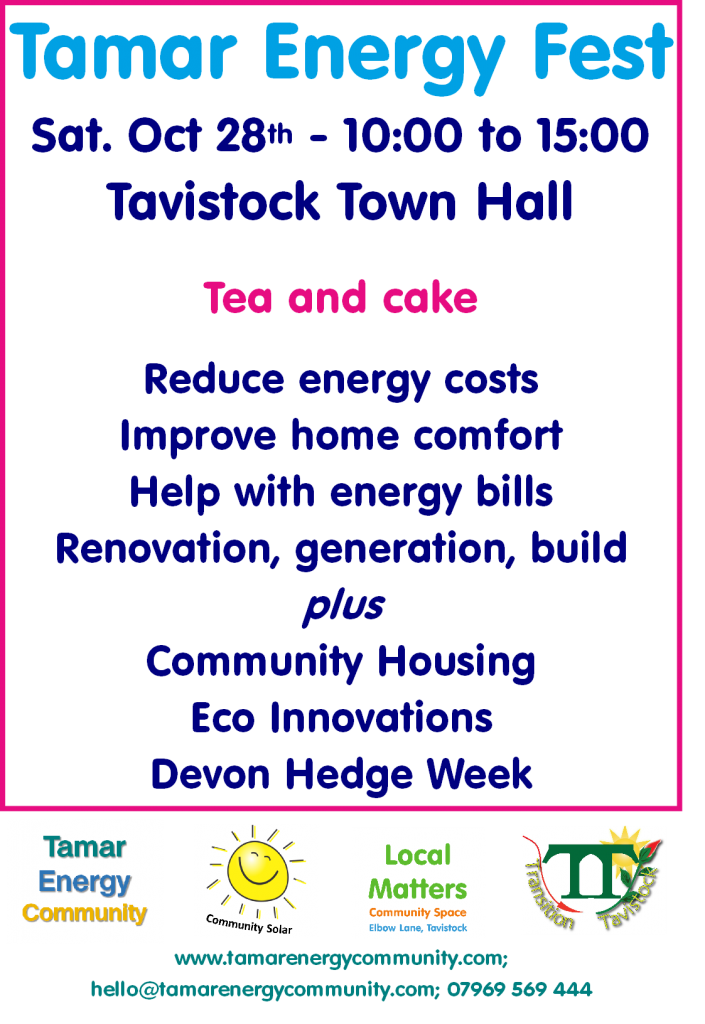 Held in Tavistock Town Hall, Tamar Energy Fest brought together local businesses and volunteers in a celebration of local energy and other eco-innovations.
More than 150 visitors came along to chat to local exhibitors, browse our information areas and listen to our programme of talks.
We shared energy advice for home and business including our  LED corner with specialist advice about this important lighting technology. We now have a range of LED bulbs on sale in Local Matters in Elbow Lane.
There was a chance to register interest in our Community Solar share offer. You can find out more about our Community Solar installations and the share offer here.
Adrian Hepworth (Transition Tavistock) shared new initiatives around 'Life without Plastic' and a Water Bottle Refill Scheme now being offered by some local traders.
There was a strong woodland feel promoting Devon Hedge Week featuring Red Squirrel Tree Care's photobooth and the Tamar Valley AONB Cordiale work.
A family entertainment table
An interesting and varied programme of talks.
Trevor Jackson, from local firm Metalélectrique caught attention by powering a fan just with liquid poured into an aluminium can – a demo of their ambitious plans for aluminium-air car batteries.
Jodie Giles (Regen) shared news of towns trying to be more self-sufficient in energy.
Kate Royston and Peter Smith (TEC energy advisers) gave practical advice on affordable warmth, and the different approaches for old and new homes.
Harry Jennings marked Devon Hedge Week by looking at the practicalities of using hedge thinnings for wood fuel.
Our Energy Cafe, with delicious tea and cakes, was a welcome spot for a rest. Thanks to Simon Earland (TEC Volunteer) for organising and managing the refreshments.
A local visitor said ""I thought today's event was fabulous. Great credit to you all and the town. Really enjoyed the speaker and related discussion, and I made some useful contacts for house building purposes!"
Kate Royston (TEC)"We're delighted that the day went well and visitors, exhibitors and volunteers all felt it was worthwhile. It's important to share the message that Local Energy Matters, and by working together we can bring more of the benefits of energy back to the local community, help address fuel poverty and support our more vulnerable residents"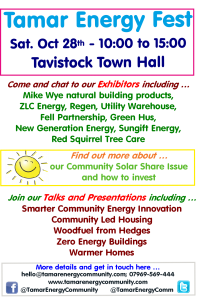 Enjoyed the Fest? Interested in getting involved? Volunteering? Joining the Board? Please get in touch.
Please email hello@tamarenergycommunity.com, call 07969 569 444, drop-in at Local Matters or come and have a chat at Green Drinks.
We would like to thank all our volunteers and exhibitors for their hard work, New Generation Energy for their promotional support, Maggie Squires for her art work on our stall in the Farmers Market, Red Squirrel Tree Care for participating with their photo booth, Dart Print, Tavistock Town Hall and Tavistock Times for their excellent service and Cllr. Jeff Moody for his support and participation on the day.