Paul's home is an 'In-progress' 1930's farmhouse self build renovation & extension with many low energy features including off grid PV & battery storage
Details:
Passive gain from glazed two story extension
Whole-house heat-recovery ventilation system
Under floor heating from thermal store
Off grid PV
Secondary & double glazing
Cavity wall insulation
24v LED light system in development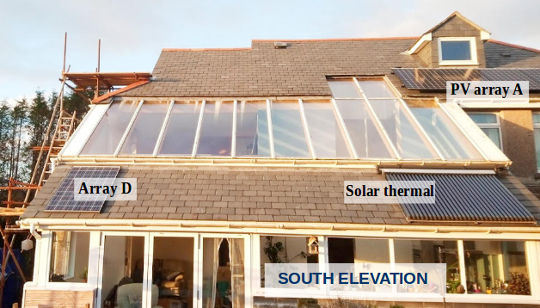 Energy reduction and conservation:
Paul has been using PV Solar Panels off-grid for about 20 years. He has built a number of devices which can use the DC power directly rather than convert it to 230v AC mains first.
Energy generation:
In 2021 Paul started an extensive revamp of his rooftop solar panels, and had one completely new array installed professionally by an MCS-accredited company. That allows those panels to be grid-connected either using an inverter or a Storage Battery.
Fortuitously Paul's renovated Devon farmhouse has an extensive south-facing roof at the ideal angle of 35°
Costs and benefits:
Paul is involved in a countrywide study into Air Source Heat Pumps. He is keen to reinforce that a heat pump requires a house with an energy efficiency of A or B. Thus insulation is essential before considering a heat pump. In addition there is a need to store the energy produced from a heat pump either as heat (large water storage and storage through radiators and underfloor heating) or as electricity (battery). He is particularly keen on battery storage development which is also a major study he has in progress.
The development of battery storage is not only for those off-grid but also if there is a power cut.  Also the pressure on the grid (and increasing cost to consumers) during peak times e.g. early evening could be alleviated more if there were better home battery storage. With this in mind Paul has been studying the effectiveness of hybrid ASHP.
Paul is also keen to see the solution to gas and gas used boilers. He is investigating hydrogen and stresses the need to install 'hydrogen ready' gas boilers if installing now.
Lessons learnt:
Paul is undertaking efficient data monitoring and will look to share this in the future.
Additional information:
"Transition Tavistock , Food and Energy: Our growing book of community stories" booklet.
Contact details:
hello@tamarenergycommunity.com